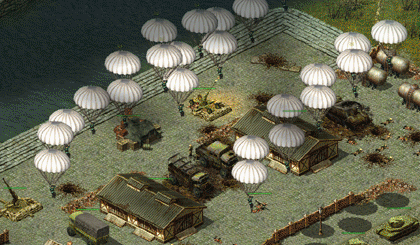 The majority of maps available here, come from the BKPortal legacy. Thanks to [BKP] - Wespex - Major Pain - longfellow for their past effort to have made this possible. Also thanks to the various map authors for their entertaining custom map creations and the many translators like albertmarcel and so many others.
The main desire of this site has always been the way of presenting these hundreds of maps. The right menu pane offers different list views making it possible to sort the maps by season, mod version and such. Looking for a specific author? Try typing the name in the search box.
Downloads are found on each map page itself and simply come as .pak files for SinglePlayer and .zip files for MultiPlayer.
In case you are using Internet Explorer, it will turn the download .pak file into a .zip file. When downloaded, you will need to rename the extension back to .pak. In case of Chrome: when clicking the download, a page full of symbols appears. Chrome doesn't seem to like .pak files. However, use your right mouse button on the download link, select Save link as... and you should be able to download the .pak even though it sounds as if you were only going to save the link, it will actually save the file itself. Modzilla Firefox works just fine. Other browsers like Safari, Opera and such have not been tested.
For SinglePlayer, place the .pak file into Blitzkrieg\Run\data.
For MultiPlayer, unzip the .bzm and .lua file into Blitzkrieg\Run\data\maps\multiplayer directory.
For Mods, this would be Blitzkrieg\Run\mods\specific mod folder\data.
The above paths are different for the Steam version of Blitzkrieg!
In most cases, the map pages show the title as it is found in the header.txt rather than the file name itself. This should make it easier to find the map within the game's custom missions overview panel. Unfortunately, this counts for the English versions only. Other languages might show a different title.
All Burning Horizon & Rolling Thunder maps were tested only with the "BH-RT Anthology Edition", which combines the latest versions of both games in one installation. Before the Anthology version was available BH & RT were standalone installations/games. This means that maps created in the past using only an RT installation are not necessarily compatible with a BH installation, as units or objects may be missing. Keep this in mind if you want to use the maps only with an BH installation. The pak file's prefix will show only RT for the Rolling Thunder maps.
269 Vanilla 1.2 maps added.
40 BH-RT maps added.
18 CCM2 maps added.
44 HF maps added.
11 PW maps added.
37 Chapters added.
199 MP maps added.